SEPTEMBER 2021 PROGRAMS
Please check back regularly as programs details may change.
---

Senior Learning Network Programs Are Back! See Below For More Information.
---
Tom & Tom's Men's Discussion Group - Mondays at 9:00am
We want to hear your stories and we'll share a few of our own. Join us in person or via Zoom. Call COA at 526-6368 to register.
Bingo! – Mondays at 1:00pm
Ten games for $5. Ten bingo sheets with 6 cards on each sheet. Participants must be 55 years old and older. This is a walk-in program.
VNA Foot Care Clinic at COA -Second, Third and Fourth Mondays at 9:00am-2:00pm
$25 Please call the Lake Sunapee Area VNA at 603-748-1731 to schedule an appointment.
French Discussion Group - First and Third Mondays at 4:15pm
Join this casual, friendly group to practice your language skills and have fun. Participants at all skill levels are welcome. This is a walk-in program.
Chair Exercises – Mondays, Wednesdays, and Thursdays at 10:30am
This low impact exercise program is perfect for those looking for an easy, effective exercise routine. This is a walk-in program.
Memoir Writing Group - Tuesdays at 10:00am.This is a walk-in program.
Painting Group - Tuesdays at 1:00pm
Bring your current painting project to work on. This is an informal group, and we'd love to have you join us. This is a walk-in program.
Hand & Foot Card Game – Tuesdays at 1:00. This is a walk-in program.
Duplicate Bridge - Tuesdays from 9:00am – 12:00pm and Wednesdays from 12:00pm - 3:00pm. Please call 526-5358 to register.
Outdoor Recreation for Seniors – Tuesdays at 10:00am. Join this active group to walk, hike, kayak and more! Please call COA at 526-6368 to register prior to your first activity.
Line Dancing with Dee Connors - Wednesdays at 10:00am Kearsarge Community Presbyterian Church, New London Line dancing includes a variety of styles of dancing, needs no partner, and is lots of fun! An excellent form of exercise for both the mind and body. Please call COA at 526-6368 to register prior to your first class.
Needlework Craft Group - Wednesdays at 1:00-3:00pm. Love to cross stitch, do needlework, quilt, knit or crochet? We'd love to chat, laugh, and get to know the folks who enjoy the same hobbies we enjoy. This is a walk-in program.
Humanist Discussion Group – Thursday, September 16th at 1:30pm. Welcome to those who are interested in delving into a variety of humanist and non-theist topics. We share our knowledge and experiences related to the challenging questions of religion, spirituality, and how they influence our lives. Using reason, critical thinking, and honest examination, we do our best to approach personal truths. Bring your thoughts, your questions, and an open mind, and join our lively, respectful monthly discussions.This is a walk-in program.
Mahjong - Thursdays at 12:30pm.This is a walk-in program.
Computer Tutoring with Nick Oursouff - Nick is available for on-line tutoring sessions. Nick has an extensive background in computers from teaching to programming. Please call COA at 526-6368 for registration information.
---
Senior Learning Network Programs
The Senior Learning Network uses Zoom to deliver life-long learning programs right to your home. Zoom connection information will be shared as soon as possible. Registration is very limited.
Mystic Seaport Museum
Tuesday, September 7th at 2:00pm
"As for me, I am tormented with an everlasting itch for things remote. I love to sail forbidden seas, and land on barbarous coasts."
― Herman Melville, Moby Dick
Come sail with us and learn about the true tale that inspired Herman Melville to write Moby-Dick. Explore the history of 19th century whaling through the lens of the last wooden whaleship in the world, and one of the star artifacts at Mystic Seaport Museum, the Charles W. Morgan. Learn how and why Americans went to sea for more than a century, in search of the great leviathans and see rare artifacts from the Museum's collection that connect to American whaling history.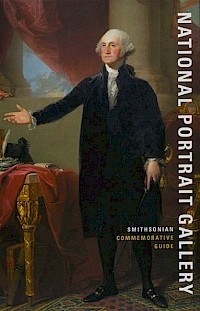 Smithsonian National Portrait Gallery
Highlights of the National Portrait Gallery Permanent Collection
Tuesday, September 14th at 2:00pm
Experience portraiture beyond the frame. These collections present people of remarkable character and achievement. These Americans—artists, politicians, scientists, inventors, activists, and performers—form our national identity. They help us understand who we are and remind us of what we can aspire to be. Get to know the National Portrait Gallery. We look forward to sharing the faces and stories of inspiring Americans with you.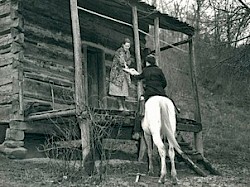 FDR Presidential Library and Museum/ Jeff Urbin
Books, Boots and Bridles: The Story of the Horse Back Librarians
Tuesday, September 21st at 2:00pm
Join one of our favorites, Jeff Urbin- as he shares the story of the Pack Horse Library initiative, a little known program of the Roosevelt Administration's WPA. Its mission, carried out almost entirely by women, was to deliver and distribute reading materials to the far off corners of Appalachia during the darkest hours of the Great Depression.
Buffalo Bill Center of the West/ What's all the hoot about owls? ( Yellowstone Park)
Tuesday, September 28th at 2:00pm
Many humans have a fascination with owls. Found across the globe, in almost every type of habitat, owls have managed to survive as a group for more than 80 million years. What has allowed owls to thrive and become a vital part in the balance of nature? Using visual aids and a real, live owl, this program will explore the adaptations such as hearing and silent flight that make owls some of the top predators in the Greater Yellowstone Ecosystem and the world
---
Outdoor Recreation for Seniors - August 2021
REMINDER: We meet Tuesdays at 10 a.m. for hiking or paddling. Always a good idea to bring your name tag, walking poles, water, sun cover, and even some bug spray. If you have been to another pond or waterway, please wash off your kayak or canoe so that invasive species are not transported into the ponds and lakes we enjoy.
August 3 - Crystal Lake in Enfield, NH
Leaders: Joy and Joe Kubit (603)-526-6678
A beautiful small lake with a nice sand bar area for swimming. Bring lunch to eat near the boat launch area. Hiking is available on dirt road along the lake.
DIRECTIONS from New London: Take route 114 North through Springfield Center to 4 Corners Rd. Turn right at the Town Meeting House and go to Bowman Rd. Turn left and proceed until you reach Rte. 4A North (which is a left turn). Go about 8 miles, pass Enfield Center then turn right onto Shaker Hill Road. Turn right onto Crystal Lake Rd to put-in.
Kayaker Leader: Joy Kubit
Hike Leader: Joe Kubit
----------------------------------------------------------------
August 10 - Kolelemook Lake, Springfield, NH – The Coombs
Leader/Hosts: Bill & Kathy
Time for Covid relief at annual "Fun in the Sun" potluck picnic at Luna-See Lodge, 2643 Main St., Springfield-Leader/ hosts are Kathy and Bill. 763-2307 or loonylodge@gmail.com .
After exercising, set up your portable chair in our shady front yard; or sit in chairs on our front porch; grab a drink; get in line for the covered dish buffet and relax with the gang. Other silly options: create a prayer flag from a paper face mask, join in our ecstatic dancing, and/or release your pent up emotions whacking the virus-shaped pinata! (Only at the Coombs!) So let gratitude, freedom, and fun fill our spirits as we celebrate brighter tomorrows together in typical ORFS style. (Please tell Kathy what you are bringing). Hope to see your full faces soon!
DIRECTIONS: From I-89, get off at Exit 12A onto Georges Mill Rd. Continue to the intersection of Rt. 114, which is also Main St. Turn left and go 2 miles where you will see the lake on the right. Coombs is diagonally across from the town beach at 2643 Main St. Please park where you can. ( Some drop off stuff and go down to the recreation field.)
----------------------------------------------------------------
August 17 – Pleasant Lake, Elkins, NH
Leader/Host: Brent Scudder 603-763-1488
Description: Pleasant Lake is a 602-acre lake located in Merrimack County in New London., NH. The village of Elkins is located at the east end of the lake, next to its put-in outlet. Water from Pleasant Lake flows east to the Blackwater River, a tributary of the Contoocook River, and ultimately the Merrimack River. Pleasant Lake Protective Association https://plpa.net/. Bring a chair and lunch.
DIRECTIONS from New London: Rt 11 from New London towards Elkins. Left turn onto Elkins Rd and continue past town Post Office. Put-in is on the left. New London residents may wish to park with sticker at Post Office/Beach area. Others may park at Neil Wallace's driveway, #364 Elkins Road; a white house set back from the road. Parking also available a church parking lot just past put-in.
Hike Leader: Joe Kubit 603-526-6678). Walkers meet at put-in
----------------------------------------------------------------
August 24 --- Hartland Dam, Hartland, VT
Kayak Leaders: Olivia Henry, 603-496-0956 and Bill Coombs, 603-504-2390. Hike Leaders: Nancy Smith, 802-369-4048 and Joe Kubit, 440-488-4724.
DIRECTIONS: I-89N to exit toward Lebanon/ White River Junction. Go .5 mi to the I-91 N exit toward WRJ. Go .1 mi to exit 11 for US-5 South. Keep left at the fork. Follow signs for Hartland/Windsor/US 5 S. Go 4 miles to Clay Hill Rd. IT IS BEFORE UNDERPASS. Turn right. Go 1.1 mi. Turn right onto N. Hartland Dam Rd. There will soon be a FORK IN THE ROAD, leading to dam and beach. Details below.
THIS YEAR THERE IS NO CHARGE TO COME TO THE DAM
HIKERS: Bear to right at fork. ( Sign points toward "Office.") Park shortly by dam, before office. First hike is across dam and back. For the 2nd hike, hikers drive back to the fork and take the left fork, sign marked "Beach." Drive to sheltered picnic area on right and park. Right across road is the marked Nature Trail loop of about a mi . After that hike, people can picnic there or drive down to the beach, to swim, picnic there.
KAYAKERS bear to the left at the fork, following the"Beach" sign. Go to road's end at beach, then put-in and parking. Bring lunch. Go left to Quechee Gorge rocks, 3.3 miles away, where you can choose to swim, eat on rocks. SHOULD WEAR WATER SHOES WITH TREADS BECAUSE THE ROCKS CAN BE VERY SLIPPERY. Kayakers do not have to go the whole way. They can turn around whenever they want and return to the beach to swim, have lunch
----------------------------------------------------------------
August 31 Perkins Pond, Sunapee, NH
Leaders: Steve and Cathy Priest 603-582-2413. Walkers and Kayakers meet at the boat ramp off Perkins Pond Road.
DIRECTIONS to Put-in: Exit 12 off Rte 89. Take Route 11 west. From exit 12 go six miles, and you pass Sunapee Safety Complex on the right. Turn right on Lower Sunapee Road. Go ¼ mile and take a right on North Road. North Road makes a sharp right at the top off hill. Continue on North Road and take a left on Perkins Pond Road. At the bottom of the hill boat ramp is on the left.
DIRECTIONS to Priest's after paddle/hike (116 Mary's Road, Sunapee, NH 03782.) Go right from put-in on Perkins Pond Road. Go uphill, returning to North Road. Take a right on North Road and go until stop sign. Turn right on Ryder Corner Road. Go down and then up a large hill. At the top of the hill take a right on Melody Lane – a dirt road. Follow Melody Lane and stay on the road when it bears right starting around the Pond. Look for house #116. A dessert will be provided. Bring chairs and bathing suits for swimming. There will be a pontoon boat ride around Perkins Pond.