OCTOBER 2021 PROGRAMS
Please check back regularly as programs details may change.
COA will be closed Monday, October 11th.
---

Senior Learning Network Programs Are Back! See Below For More Information.
---
Tom & Tom's Men's Discussion Group - Mondays at 9:00am
We want to hear your stories and we'll share a few of our own. Join us in person or via Zoom. Please call COA at 526-6368 for Zoom registration information.
Bingo! – Mondays at 1:00pm
Ten games for $5. Ten bingo sheets with 6 cards on each sheet. Participants must be 55 years old and older. This is a walk-in program.
LSRVNA Foot Care Clinic at COA -Second, Third and Fourth Mondays at 9:00am-2:00pm (Please note: The October 11th clinic has been rescheduled to October 13th.)
$25 Please call the Lake Sunapee Region VNA at 603-748-1731 to schedule an appointment.
French Discussion Group - First and Third Mondays at 4:15pm
Join this casual, friendly group to practice your language skills and have fun. Participants at all skill levels are welcome. This is a walk-in program or participate via Zoom. Please call COA at 526-6368 for Zoom registration information.
Chair Exercises – Mondays, Wednesdays, and Thursdays at 10:30am Masks required
This low impact exercise program is perfect for those looking for an easy, effective exercise routine. This is a walk-in program. No classes on 10/7 & 10/21.
Book Discussion Group - Tuesday, October 12th at 10:00am.
The Bear by Andrew Krivak. Living close to the land in an Eden-like post-civilization world, a girl learns the secrets of hunting and star navigation before finding herself in an unknown landscape, where a bear imparts powerful natural-world lessons. Please call COA at 526-6368 to obtain a book. Location to be announced.
Memoir Writing Group - Tuesdays at 10:00am.This is a walk-in program.
Painting Group - Tuesdays at 1:00pm
Bring your current painting project to work on. This is an informal group, and we'd love to have you join us. This is a walk-in program.
Hand & Foot Card Game – Tuesdays at 1:00. This is a walk-in program.
Poker - Tuesdays at 1:00pm. This is a walk-in program.
Outdoor Recreation for Seniors – Tuesdays at 10:00am. Join this active group to walk, hike, kayak and more! Please call COA at 526-6368 to register prior to your first activity.
Line Dancing with Dee Connors - Wednesdays at 10:00am Kearsarge Community Presbyterian Church, New London Line dancing includes a variety of styles of dancing, needs no partner, and is lots of fun! An excellent form of exercise for both the mind and body. Please call COA at 526-6368 to register prior to your first class.
Needlework Craft Group - Wednesdays at 1:00-3:00pm. Love to cross stitch, do needlework, quilt, knit or crochet? We'd love to chat, laugh, and get to know the folks who enjoy the same hobbies we enjoy. This is a walk-in program.
Humanist Discussion Group – Thursday, October 21st at 1:30pm. Welcome to those who are interested in delving into a variety of humanist and non-theist topics. We share our knowledge and experiences related to the challenging questions of religion, spirituality, and how they influence our lives. Using reason, critical thinking, and honest examination, we do our best to approach personal truths. Bring your thoughts, your questions, and an open mind, and join our lively, respectful monthly discussions.This is a walk-in program.
Mahjong - Thursdays at 12:30pm.This is a walk-in program.
Scrabble - Thursdays at 1:00pm. This is a walk-in program.
Computer Tutoring with Nick Oursouff - Nick is available for on-line tutoring sessions. Nick has an extensive background in computers from teaching to programming. Please call COA at 526-6368 for registration information.
---
Senior Learning Network Programs
Senior Learning Network programs are back! These LIVE programs will take you all around the country to museums and landmarks right from the comfort of your own home! Just call COA at 526-6368 to register for the programs and receive Zoom connection information. SPACE IS LIMITED!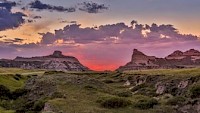 Tuesday, October 5th at 2:00pm - Scotts Bluff National Monument
"Nebraska, honestly, it's not for everyone."
However, there's a real gem of a natural area and historic site along the North Platte River in western Nebraska that draws visitors from all over the country and the world. Learn what there is to see and do at Scotts Bluff National Monument. Ponder the travels of the pioneers who saw the bluffs here as a landmark on their travels to Oregon, California and the Salt Lake Valley of Utah. Discover some unique geology. Enjoy the scenery of the North Platte River Valley from the summit of the bluff. Honestly, we think there's something for everyone at Scotts Bluff National Monument. Zoom link will be open at 1:30pm.
Tuesday, October 12th at 2:00pm - Return to Hearst Castle: "From Campsite to Castle" Julia Morgan, Architect
Julia Morgan designed nearly 700 buildings, more than any other architect of the 20th century. Her best known project, Hearst Castle, is world-renowned for its dramatic beauty. The project became one of the longest and most fascinating collaborations between architect and client, William Randolph Hearst. Join us in a unique presentation with a guide from Hearst Castle who highlights the achievements of the architect and the fascinating, 28 year- long building process of the estate. Showcasing a miniature model of the castle and several historic images, we will see the transformation from a small bungalow on Hearst's family's campsite overlooking San Simeon Bay to the amazing "castle" it is today. Zoom link will be open at 1:30pm.
Tuesday, October 19th at 2:00pm- Jimmy Carter Presidential Library
"The Extraordinary Life of Jimmy Carter "
Throughout his life, President Carter has found himself in extraordinary circumstances faced with extraordinary opportunities, many of which were brought about by the American Presidency.This presentation will examine civic engagement and discuss the primary sources of the Carter Library and National Archives to address the question, "What is the secret to an extraordinary life?". Zoom link will be open at 1:30pm.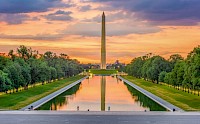 Tuesday, October 26th at 2:00pm- National Mall and Memorial Parks in Washington, D.C: "A Visit to America's Front Yard"
Visit with a Park Ranger from National Mall and Memorial Parks in Washington, D.C, for a virtual tour of the park sometimes referred to as America's Front Yard. We will explore the history and symbolism of memorials, such as Lincoln, Thomas Jefferson, Franklin D. Roosevelt, and Martin Luther King, Jr and more! Zoom link will be open at 1:30pm.
---
October Outdoor Recreation for Seniors (ORFS)
REMINDER: We meet Tuesdays at 10 a.m. for hiking or paddling. Always a good idea to bring your name tag, walking poles, water, sun cover, and even some bug spray. If you have been to another pond or waterway, please wash off your kayak or canoe so that invasive species are not transported into the ponds and lakes we enjoy.
Out of consideration for the safety of us all, as was the case with last year all refreshments and socializing this month will continue to be outdoors. Be reminded that the current CDC recommendations are for social distancing for individuals from different households, and mask wearing for those not vaccinated. As cases continue to rise in NH let's do our part to keep each other safe from Covid 19.
October 5th – South Sutton Countryside Around Home of Henry and Libby
Trip Leaders: Henry and Libby Howell (Home: 603-938-5706 or Cell: 781-307-8817)
This hike will start from the Howells' house and will travel around their 1.8-mile dirt road loop with possible extended walk through some fields and woods. We'll offer soup, coffee & tea, and dessert cookies afterward at our house to be served outdoors. Folks should bring their lunch and a chair to sit on our terrace overlooking the lake.
Directions:
From Rt 114 South Sutton post office go south 1.4 miles Turn left onto Johnson Hill Road and go .3 miles to top of little hill. At top of little hill, turn right at old farmhouse and head downhill .2 miles to fork. At fork is Blaisdell Hill Road & Camp Kemah Road. Go straight up hill on Blaisdell Hill Road .5 miles to our house (becomes dirt road.) We are #100 on the right. Park on either side of house.
________________________________
October 12th Profile Falls, Bristol NH
Trip Leader: Phyllis Piotrow (603-526-2755)
Profile Falls is a short, wide waterfall on the Smith River, just upstream of where it meets the Pemigewasset. Its size and beauty are impressive for its proximity to a populated area. It is also an easy walk, accessible via a very short, wide dirt path. The enormous size of the waterfall immediately overwhelms you when you first see it. It is not very tall, but few other waterfalls in New Hampshire can match its impressive volume. It is made up of two main drops, each about 10 feet, and there is a very large pool at the base. The waterfall can be viewed from the top by walking through the woods.
Directions:
From New London take Rt 11 east to Potter Place, left on Rt 4 to Danbury, then in Danbury right on Rt 104 about 7.2 miles. Turn right on Walker Rd, after Berry Rd, bearing right at Walker Farm, about 1.7 miles, across Rt 3A and down into Profile Falls Rd. Then sharp right into park and farthest parking lot on the right. (If lost, from Bristol center go right on Rt 3A for 1.6 miles to Mountain Hill Road on left and straight down into park). Bring your lunch and chair to eat by the river, appropriately socially distanced of course.
________________________________
October 19th Mt Kearsarge Indian Museum, Warner NH
Trip Leader: Olivia Henry (Cell: 603-496-0956)
This trip includes a guided tour of the museum of 1 to 1½ hour. Afterwards, there is a self-guided 2 tenths of a mile Medicine Trail walk. Finally, we can explore the arboretum there. Bring lunch and eat in the pavilion of the arboretum or eat closer in the barn. The museum offers 1,000's of Native-made objects, many made from trees, roots, grasses, berries, stones, animals, from many parts of North America. Afterwards, on the Medicine Woods Trail, we can learn about many medicinal plants.If some people want to do more walking, they can walk on Mt. Kearsarge Rd. It is c. 4 1/2 mi from the Museum up to Rollins St. Park. Cost for our group is $7.50 pp, please bring exact change to Olivia, if possible to expedite admissions. Otherwise, the museum can accept cash, check, or credit cards. Be sure to take a look at this website to learn more about the origins of this New Hampshire special place:
https://newhampshireadventures.blogspot.com/2014/02/bud-thompson-finding-place-in-circle.html?m=1
Directions:
Mt Kearsarge Indian Museum
18 Highlawn Road, Warner, NH.
RT 89S to Exit 9 for NH-103 toward Warner/Bradford. Go 0.3 mi then turn left onto NH Route 103E. Go 0.8 mi. Turn left onto Roslyn Ave. Go 15 ft then turn right onto Geneva St for 0.2 mi. Turn left onto Kearsarge Mountain Rd. Go 0.9 mi then turn right onto Highlawn Rd. Destination is 2nd driveway on the right.
________________________________
October 26th Bog Mountain Trail, Wilmot NH
Trip Leader: Barbara Cooper (Home: 603-763-9286, Cell: 603-229-2113).
This surprisingly rocky little peak in central NH is a relatively unknown hiking destination compared to its neighbors, like Mt. Kearsarge. There are two possible approaches; The total length of today's hike is 2.2 miles. The Bog Mountain Trail heads off into a nice forest and begins climbing moderately. It winds through the woods until it reaches the top of a ridge (at 0.6 miles), where there are wide rock ledges with limited views toward Mt. Kearsarge and nearby hillsides. The trail continues through the forest at a mostly flat grade, occasionally passing over open rock. At the summit there are wide views over the treetops in two directions. Mt. Kearsarge and Mt. Sunapee are seen to the south, and Smarts Mountain is seen to the north. A spur path leads down to a second overlook facing southeast. At the back of the summit area is a large granite bench in honor of Bill Best.
To celebrate the season, pick up your individually wrapped trick or treat goodies bag at the end of the hike. Happy Halloween!
Directions:
From New London take Route 11 east toward Andover. Turn left onto Route 4A. After 4.8 miles turn right onto Stearns Rd. The Trailhead and parking area are on Stearns Road in Wilmot, NH. Stearns Road leaves Rt. 4A 4.8 miles west of Rt. 11. The trailhead is 0.7 miles down Stearns Road, on the right. There is a wooden sign marking the trail on the right hand side of the road.There is a small pull-off on the other side, just past the trailhead.