JANUARY 2022 PROGRAMS
Please check back regularly as programs details may change.
---
Tom & Tom's Men's Discussion Group - Mondays at 9:00am
We want to hear your stories and we'll share a few of our own. This is a Zoom program until further notice.
Bingo! – Mondays at 1:00pm
Ten games for $5. Ten bingo sheets with 6 cards on each sheet. Participants must be 55 years old and older. This is a walk-in program.
LSRVNA Foot Care Clinic at COA - Mondays from 9:00am-2:00pm
$25. Please call the Lake Sunapee Region VNA at 603-748-1731 to schedule an appointment.
French Discussion Group - First and Third Mondays at 4:15pm
Join this casual, friendly group to practice your language skills. Participants at all skill levels are welcome. This is a walk-in program or participate via Zoom. Please call COA at 526-6368 for Zoom registration information.
Chair Exercises – Mondays, Wednesdays and Thursdays at 10:30am Masks required
This low impact exercise program is perfect for those looking for an easy, effective exercise routine. This is a walk-in program.
Book Discussion Group - Tuesday, January 11th at 10:00am. Book to be announced.
Memoir Writing Group - Tuesdays at 10:00am.This is a walk-in program.
Painting Group - Tuesdays at 1:00pm
Bring your current painting project to work on. This is an informal group, and we'd love to have you join us. This is a walk-in program.
Hand & Foot Card Game – Tuesdays at 1:00pm.This is a walk-in program.
Poker - Tuesdays at 1:00pm. This is a walk-in program.
Outdoor Recreation for Seniors – Tuesdays & Thursdays at 10:00am. Join this active group to walk, hike, kayak and more! Please call COA at 526-6368 to register prior to your first activity.
Line Dancing - Wednesdays at 10:00am. Kearsarge Community Presbyterian Church, New London. Line dancing includes a variety of styles of dancing, needs no partner, and is lots of fun! An excellent form of exercise for both the mind and body. Please call COA at 526-6368 to register prior to your first class.
Parkinson Peer-to-Peer Support Group - First Wednesday of each month at 1:00pm. A peer-focused opportunity to share practical insights and provide mutual support to those also living with or caring for someone with PD. This is a walk-in program.
Caregiver Peer-to-Peer Support Group - Second Wednesday of each month at 1:00pm. There is no instruction manual for being a caregiver! Join this peer-led group to learn tips, strategies and advice from those experiencing the same challenges and rewards. This is a walk-in program.
Needlework Craft Group - Wednesdays at 1:00-3:00pm. Love to cross stitch, do needlework, quilt, knit or crochet? We'd love to chat, laugh, and get to know the folks who enjoy the same hobbies we enjoy. This is a walk-in program.
Humanist Discussion Group – Thursday, January 20th at 1:00pm. Welcome to those who are interested in delving into a variety of humanist and non-theist topics. We share our knowledge and experiences related to the challenging questions of religion, spirituality, and how they influence our lives. Using reason, critical thinking, and honest examination, we do our best to approach personal truths. Bring your thoughts, your questions, and an open mind, and join our lively, respectful monthly discussions.This is a walk-in program.
Mah-jongg - Thursdays at 12:30pm.This is a walk-in program.
Scrabble - Thursdays at 1:00pm. This is a walk-in program.
Computer Tutoring with Nick Oursouff - Nick is available for on-line tutoring sessions. Nick has an extensive background in computers from teaching to programming. Please call COA at 526-6368 for registration information.
---
Senior Learning Network Programs

Senior Learning Network programs are back! These LIVE programs will take you all around the country to museums and landmarks right from the comfort of your own home! Just call COA at 526-6368 to register for the programs and receive Zoom connection information. SPACE IS LIMITED!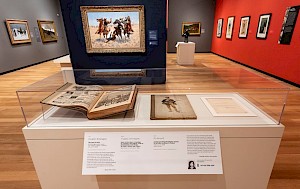 Amon Carter Art Museum's Art of the American West
Tuesday, January 4th at 2:00pm
Join us as we view the Carter Legacy galleries housing the original collection of Frederic Remington and Charles Russell objects. We will also discover how other artist of the time and modern and contemporary artists have depicted the American west.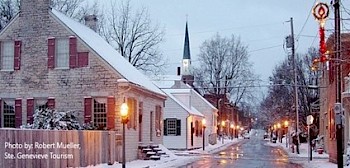 Ste. Genevieve National Historical Park
Tuesday, January 11th at 2:00pm
Come discover the unique history of Ste. Genevieve! Established in 1750, Ste. Geneviève was the first permanent European settlement in Missouri. Early French Canadian settlers were drawn here by the rich agricultural land known as Le Grand Champ (the Big Field). After the flood of 1785, the town relocated to its present location on higher ground approximately three miles to the northwest of its original site. A true embodiment of the "melting pot" metaphor, Ste. Genevieve is rich with history, telling the stories of the people that lived and settled the land.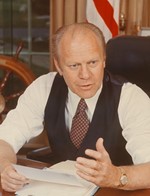 Gerald R. Ford Presidential Museum
Tuesday, January 18th at 2:00pm
Did you know the Ford Presidential Library and Museum is the only split Presidential museum? The Library is located in Ann Arbor on the University of Michigan's campus. The Museum is located in Grand Rapids, Michigan. Join Kristin Phillips, Public Affairs Specialist, as she gives you a glimpse inside the Gerald R. Ford Presidential Library and Museum. Find out why there are two separate facilities, and more fun facts about the 38th President Gerald R. Ford.
Mitchell Caverns
Tuesday, January 25th at 2:00pm
Mitchell caverns are the only limestone caves in the California State Park system. The caverns were created during the Pleistocene epoch, when ground water with a high carbonic acid content ate into the surrounding marble and sedimentary limestone. Stalactites, stalagmites, and other cave formations were formed from calcium carbonate left by dripping mineral water. For many years the caves were thought to be "dead", that is, the formations were no longer growing. However, recent studies have found something different. Park Ranger Andrew has asked us to return to see a special presentation of the caverns in Providence Mountains with their new and improved internet connections .
---
JANUARY OUTDOOR RECREATION FOR SENIORS SCHEDULE - Tuesdays
WE MEET EVERY TUESDAY STARTING OUR ACTIVITY AT 10 a.m. PLEASE JOIN US!
January 4 - Hike Mount Tom in Woodstock, VT Leader is Anne Forzley 860-670-9984
Meet at the Billings Farm and Museum parking lot in Woodstock, VT. Cross Route 12 to the trails and hike the carriage roads, Mountain Road and Mt. Tom Road to the south peak summit. The carriage roads are wide, and although they are uphill, they are not steep. It's also possible to hike a loop around the Pogue, a small, yet scenic pond on the property. Boots, spikes or snowshoes may be appropriate, depending on the weather. Directions: 89 North to exit 1 for Route 4. Turn left onto route 4 west for 10 miles. Turn right to continue on VT 12 North, then a slight right onto Old River Road. Park in the Billings Farm & Museum parking lot on the right. Lunch can be at the Billings Farm Parking area or at the Skinny Pancake 7161 Woodstock Road (Route 4) Quechee, VT.
January 11 - Hike Sunapee Harbor – Lake Avenue – Burkehaven Leader is Anne Forzley 860-670-9984
Begin in the harbor and hike either up Burkehaven Hill and around the 3 mile loop back by Lake Avenue to the Harbor, or follow Lake Avenue and turn back any time before Burkehaven Hill to skip the hill. Enjoy views of Lake Sunapee, the lighthouse and surrounding hills. Sneakers, boots and possibly spikes, depending on the weather conditions, will be appropriate. Directions: Coming from New London take Route 11 to Sunapee. In Sunapee, after you pass Bar Harbor Bank on the right, turn left onto Main Street at the blinking light towards Sunapee Harbor. Follow Main Street up and over the hill. Park in the harbor area in front of the green and the gazebo, or across the street in the small parking area by the boat launch.Lunch can be outside at the harbor/up on the lawn by the gazebo, or at Pizza Chef in Sunapee.
January 18 - Hike the Northern Rail Trail in Enfield Leader is Anne Forzley 860-670-9984
Hike the Northern Rail Trail along Mascoma Lake and the Mascoma River. The trail is flat and scenic. Hiking boots, spikes, snowshoes or nordic skis are recommended, depending on weather and the amount of snow on the trail. Park at Lakeside Park in Enfield next to Mascoma Lake. Directions: From Route 89 take exit 17. Follow Route 4 east and turn right onto 4A. Follow 4A along Mascoma Lake and turn left to cross the Shaker Bridge (Main Street). After crossing the bridge, turn right into Lakeside Park. Lunch can be outside at the park, or at Mickey's Roadside Café 330 Route 4 in Enfield.
January 25 - Hike the Sugar River Trail in Newport Leader is Anne Forzley 860-670-9984
Hike along the Sugar River Trail as it winds through the woods in Newport towards Claremont. The trail is flat, wide and surrounded by woods. The Sugar River provides a peaceful and scenic view. Boots, spikes, snowshoes or nordic skis are appropriate, depending on weather. Directions: A couple of blocks north of the gazebo in Newport, turn left onto Belknap Avenue. Drive a very short distance down Belknap Avenue, past Hodgepodge Yarns, and turn right into a dirt parking lot by large propane or oil tanks. The trailhead is at the end of the dirt parking area. Lunch can be outside at the trailhead by the river or at Village Pizza of Newport 7 South Main Street.