ORFS Schedules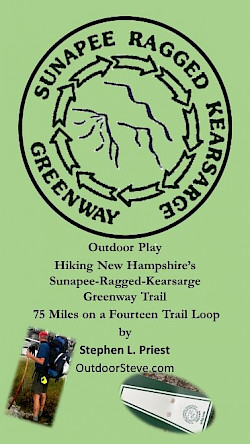 Steve Priest's latest book, Outdoor Play Hiking New Hampshire's Sunapee-Ragged-Kearsarge Greenway: 75 Miles on a Fourteen Trail Loop, was just released. The Sunapee-Ragged-Kearsarge-Greenway (SKRG) Trail is a hidden gem of New England. Outdoor Steve's goal is to share each step and strategy of this hiking journey across the Lakes Region of New Hampshire. Steve recommends the eBook. (Amazon.com/gp/product/B08MDN1S16). The ebook has videos of Steve's personal experiences on each of the fourteen trails. The videos make the hikes "come alive" and include many of his fellow COA ORFS (Outdoor Recreation for Seniors.) The book is also available in paperback at the Morgan Hill Bookstore in New London, NH. Some folks call outdoor experiences "play." If "play" is defined as the choice made to take a course of action based on the rewards of participation and getting a perspective that can only come from 'doing,' then outdoor adventures are play. Many adults and children do not play enough."Everyone should believe in something. I believe I'll go Outdoors." For more of Steve's outdoor guidebooks and documentary videos, visit OutdoorSteve.com and Outdooradventurers.blogspot.com.
---
The Outdoor Recreation for Seniors (ORFS) group meets every Tuesday and Thursday year-round at 10am. In the summer we kayak/canoe, swim and hike. In the fall we hike, and in the winter we snowshoe and cross-country ski. Our trips are from 1-1/2 to 2 hours, followed by lunch. ORFS is a very informal group and participation is for all outdoor enthusiasts wanting guaranteed good exercise with a friendly fun group. Join in on the fun. Hikes will depart promptly at 10am.
PLEASE NOTE: You will be notified of a cancellation by 8:00am on Tuesday for the Tuesday ORFS group by e-mail from the leader of the week who is responsible for that decision. A rain date may occur at a future date if the monthly coordinator can substitute and reschedule activities. Please keep checking coachapincenter.org for the current ORFS event schedule and any changes.
If you are an ORFS participant and would like the monthly ORFS schedule emailed to you, please contact COA at 526-6368.
NEW ORFS PARTICIPANTS MUST COMPLETE AND RETURN THE WAIVER AND EMERGENCY CONTACT FORMS BELOW PRIOR TO THEIR FIRST ORFS ACTIVITY.
---
AUGUST 2021 OUTDOOR RECREATION FOR SENIORS SCHEDULE
REMINDER: We meet Tuesdays at 10 a.m. for hiking or paddling. Always a good idea to bring your name tag, walking poles, water, sun cover, and even some bug spray. If you have been to another pond or waterway, please wash off your kayak or canoe so that invasive species are not transported into the ponds and lakes we enjoy.
August 3 - Crystal Lake in Enfield, NH
Leaders: Joy and Joe Kubit (603)-526-6678
A beautiful small lake with a nice sand bar area for swimming. Bring lunch to eat near the boat launch area. Hiking is available on dirt road along the lake.
DIRECTIONS from New London: Take route 114 North through Springfield Center to 4 Corners Rd. Turn right at the Town Meeting House and go to Bowman Rd. Turn left and proceed until you reach Rte. 4A North (which is a left turn). Go about 8 miles, pass Enfield Center then turn right onto Shaker Hill Road. Turn right onto Crystal Lake Rd to put-in.
Kayaker Leader: Joy Kubit
Hike Leader: Joe Kubit
----------------------------------------------------------------
August 10 - Kolelemook Lake, Springfield, NH – The Coombs
Leader/Hosts: Bill & Kathy
Time for Covid relief at annual "Fun in the Sun" potluck picnic at Luna-See Lodge, 2643 Main St., Springfield-Leader/ hosts are Kathy and Bill. 763-2307 or loonylodge@gmail.com .
After exercising, set up your portable chair in our shady front yard; or sit in chairs on our front porch; grab a drink; get in line for the covered dish buffet and relax with the gang. Other silly options: create a prayer flag from a paper face mask, join in our ecstatic dancing, and/or release your pent up emotions whacking the virus-shaped pinata! (Only at the Coombs!) So let gratitude, freedom, and fun fill our spirits as we celebrate brighter tomorrows together in typical ORFS style. (Please tell Kathy what you are bringing). Hope to see your full faces soon!
DIRECTIONS: From I-89, get off at Exit 12A onto Georges Mill Rd. Continue to the intersection of Rt. 114, which is also Main St. Turn left and go 2 miles where you will see the lake on the right. Coombs is diagonally across from the town beach at 2643 Main St. Please park where you can. ( Some drop off stuff and go down to the recreation field.)
----------------------------------------------------------------
August 17 – Pleasant Lake, Elkins, NH
Leader/Host: Brent Scudder 603-763-1488
Description: Pleasant Lake is a 602-acre lake located in Merrimack County in New London., NH. The village of Elkins is located at the east end of the lake, next to its put-in outlet. Water from Pleasant Lake flows east to the Blackwater River, a tributary of the Contoocook River, and ultimately the Merrimack River. Pleasant Lake Protective Association https://plpa.net/. Bring a chair and lunch.
DIRECTIONS from New London: Rt 11 from New London towards Elkins. Left turn onto Elkins Rd and continue past town Post Office. Put-in is on the left. New London residents may wish to park with sticker at Post Office/Beach area. Others may park at Neil Wallace's driveway, #364 Elkins Road; a white house set back from the road. Parking also available a church parking lot just past put-in.
Hike Leader: Joe Kubit 603-526-6678). Walkers meet at put-in.
----------------------------------------------------------------
August 24 --- Hartland Dam, Hartland, VT
Kayak Leaders: Olivia Henry, 603-496-0956 and Bill Coombs, 603-504-2390. Hike Leaders: Nancy Smith, 802-369-4048 and Joe Kubit, 440-488-4724.
DIRECTIONS: I-89N to exit toward Lebanon/ White River Junction. Go .5 mi to the I-91 N exit toward WRJ. Go .1 mi to exit 11 for US-5 South. Keep left at the fork. Follow signs for Hartland/Windsor/US 5 S. Go 4 miles to Clay Hill Rd. IT IS BEFORE UNDERPASS. Turn right. Go 1.1 mi. Turn right onto N. Hartland Dam Rd. There will soon be a FORK IN THE ROAD, leading to dam and beach. Details below.
THIS YEAR THERE IS NO CHARGE TO COME TO THE DAM
HIKERS: Bear to right at fork. ( Sign points toward "Office.") Park shortly by dam, before office. First hike is across dam and back. For the 2nd hike, hikers drive back to the fork and take the left fork, sign marked "Beach." Drive to sheltered picnic area on right and park. Right across road is the marked Nature Trail loop of about a mi . After that hike, people can picnic there or drive down to the beach, to swim, picnic there.
KAYAKERS bear to the left at the fork, following the"Beach" sign. Go to road's end at beach, then put-in and parking. Bring lunch. Go left to Quechee Gorge rocks, 3.3 miles away, where you can choose to swim, eat on rocks. SHOULD WEAR WATER SHOES WITH TREADS BECAUSE THE ROCKS CAN BE VERY SLIPPERY. Kayakers do not have to go the whole way. They can turn around whenever they want and return to the beach to swim, have lunch
----------------------------------------------------------------
August 31 Perkins Pond, Sunapee, NH
Leaders: Steve and Cathy Priest 603-582-2413. Walkers and Kayakers meet at the boat ramp off Perkins Pond Road.
DIRECTIONS to Put-in: Exit 12 off Rte 89. Take Route 11 west. From exit 12 go six miles, and you pass Sunapee Safety Complex on the right. Turn right on Lower Sunapee Road. Go ¼ mile and take a right on North Road. North Road makes a sharp right at the top off hill. Continue on North Road and take a left on Perkins Pond Road. At the bottom of the hill boat ramp is on the left.
DIRECTIONS to Priest's after paddle/hike (116 Mary's Road, Sunapee, NH 03782.) Go right from put-in on Perkins Pond Road. Go uphill, returning to North Road. Take a right on North Road and go until stop sign. Turn right on Ryder Corner Road. Go down and then up a large hill. At the top of the hill take a right on Melody Lane – a dirt road. Follow Melody Lane and stay on the road when it bears right starting around the Pond. Look for house #116. A dessert will be provided. Bring chairs and bathing suits for swimming. There will be a pontoon boat ride around Perkins Pond.
---
SEPTEMBER 2021 OUTDOOR RECREATION FOR SENIORS SCHEDULE
September 7 – Dewey Beach, Sunapee
Kayak leader Al Peterson, 603-763-5456, Hike leader Skip Hause, 339-440-2256.
Bring kayaks, chairs, and lunch. We have full access to beachfront put-in and tables. A few options for hikers begin at the beach.
Directions: From New London, take Rt. 11 to Sunapee. Before you get to the town center, you turn left on Jobs Creek Rd, which runs into Garnet St. Turn right, and you can park in front of the beach fence.
----------------------------------------------------------------
September 14– Little Lake Sunapee
Leader/Host: Anne Forzley 860-670-9984 anneforzley@gmail.com
Directions: From I 89 exit 12, Newport Road, turn towards New London and drive 1.3 miles to Murray Pond Road on the left. Murray Pond Road is across from a sign that indicates that the speed limit is about to drop to 30mph. Drive all the way down Murray Pond Road. My house is just after the beach. Park at my house, a tall, skinny grey house #104. I can fit four cars in my parking spot. Others can park along the road, and beyond my house, at the dead end, but please don't block any driveways. If the neighbors are not going to be around, they will let me park cars in their spots as well. When you arrive, I'll let you know which driveways we can use.
Hike Leader: Joe Kubit (603)-526-6678
Hikers: From my house on Murray Pond Road, Joe Kubit will lead the group up Newport Road to Cricenti's Bog to explore the bog.
Bring your lunch, a chair, a swimsuit, and a towel. I will supply cold beverages and dessert.
----------------------------------------------------------------
September 21 - Pillsbury State Park in Washington
Leaders: Kendall and Judy Buck. (603) 608-6670
Kayak around two wilderness ponds. Hikers get a map at the office to decide which wooded hiking trail to enjoy. Park information and maps located at https://www.nhstateparks.org/visit/state-parks/pillsbury-state-park. Bring your chair and lunch to the picnic area at the end of the park road.
Directions: From the traffic circle in Newport, continue straight on Rt.10, which is Main St. for 10.8 miles. Take a slight turn onto Rt. 31 South Washington Rd. for 5.5. miles. Turn left onto Pillsbury State Park Rd. and drive to the park office to sign in. $4 fee or free for over 65.
----------------------------------------------------------------
September 28 – Newbury Harbor, Lake Sunapee
Leader Mark Friedman 630-567-5991
Directions: Newbury harbor is at the junction of Rt 103A and Rt 103. From New London go South on 103A to the junction and turn R. There are 12 parking spots on the R at the head of the harbor. If these are all taken, there is additional parking further along 103 on the right (by the caboose). The adjacent parking / across the street parking is private. You can pull in and launch from the dock or the beach, then move if the parking is full.
Hikers should proceed back up 103A north (back toward New London) about 1.5 miles to the Fells. You can park in the Fells lot. There are several hiking options:
Directly across the street is the Sunset Hill Trail. You can follow this to the top of Sunset Hill (about 30 minutes) where you will be rewarded by views of Lake Sunapee.
If you want a flatter trail, continue straight on Old County Road (just a trail these days) where the Sunset Hill Trail turns L up the hill. This will end at Rollins Road.
Or you can hike the trails in the Fells (there is an admission charge if the gatehouse is attended).
At about noon, kayakers will put in at Blye Hill Landing (on the East Shore) for lunch. Mark and Mary Friedman will provide water and snacks. Hikers can park in the lot at the foot of Blye Hill Landing Rd (0.7 mi N of Newbury on 103A. There is a tall flagpole in the lot). Proceed down the hill to the beach. The sign says homeowners and guests only, and you are my guests. After lunch kayakers can paddle back to the harbor or shuttle back by car and take out at the landing.
(Note: Depending on the weather, we may want to do the windward end of Lake Sunapee (by Georges Mills), but we can watch the forecast and adjust based on weather.)
Quick Facts About Newbury
https://www.google.com/maps/place/Newbury,+NH/@43.3192061,-72.0913633,12z/data=!4m5!3m4!1s0x89e1f442927ee68f:0x11d6d0cb73fd05c0!8m2!3d43.3214646!4d-72.0359175
---
ORFS Group Forms