OUTDOOR RECREATION FOR SENIORS MONTHLY SCHEDULE
The Outdoor Recreation for Seniors (ORFS) group meets every Tuesday year-round at 10am. In the summer we kayak/canoe, swim and hike. In the fall we hike, and in the winter we snowshoe and cross-country ski. Our trips are from 1-1/2 to 2 hours, followed by lunch. ORFS is a very informal group and participation is for all outdoor enthusiasts wanting guaranteed good exercise with a friendly fun group. Join in on the fun. Hikes will depart promptly at 10am.
PLEASE NOTE: You will be notified of a cancellation by 8:00am on Tuesday by e-mail from the leader of the week who is responsible for that decision. A rain date may occur at a future date if the monthly coordinator can substitute and reschedule activities. Please keep checking this website for the current ORFS event schedule and any changes.
If you are an ORFS participant and would like the monthly ORFS schedule emailed to you, please contact COA at 526-6368.
NEW ORFS PARTICIPANTS MUST COMPLETE AND RETURN THE WAIVER AND EMERGENCY CONTACT FORMS BELOW PRIOR TO THEIR FIRST ORFS ACTIVITY.
---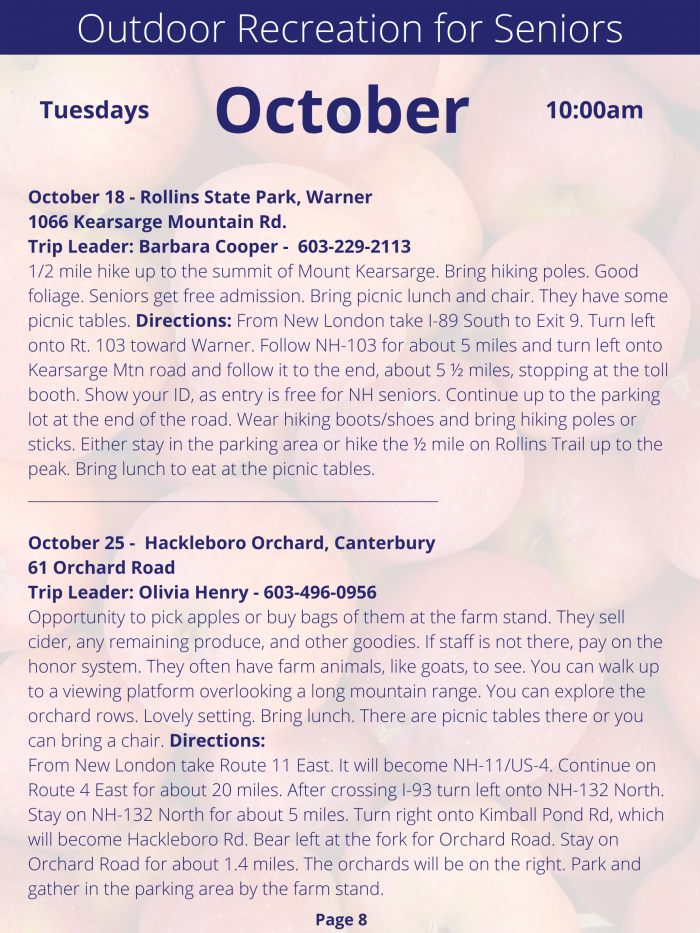 ---
ORFS Group Forms