ORFS Schedules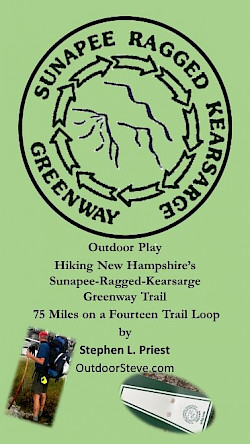 Steve Priest's latest book, Outdoor Play Hiking New Hampshire's Sunapee-Ragged-Kearsarge Greenway: 75 Miles on a Fourteen Trail Loop, was just released. The Sunapee-Ragged-Kearsarge-Greenway (SKRG) Trail is a hidden gem of New England. Outdoor Steve's goal is to share each step and strategy of this hiking journey across the Lakes Region of New Hampshire. Steve recommends the eBook. (Amazon.com/gp/product/B08MDN1S16). The ebook has videos of Steve's personal experiences on each of the fourteen trails. The videos make the hikes "come alive" and include many of his fellow COA ORFS (Outdoor Recreation for Seniors.) The book is also available in paperback at the Morgan Hill Bookstore in New London, NH. Some folks call outdoor experiences "play." If "play" is defined as the choice made to take a course of action based on the rewards of participation and getting a perspective that can only come from 'doing,' then outdoor adventures are play. Many adults and children do not play enough."Everyone should believe in something. I believe I'll go Outdoors." For more of Steve's outdoor guidebooks and documentary videos, visit OutdoorSteve.com and Outdooradventurers.blogspot.com.
---
The Outdoor Recreation for Seniors (ORFS) group meets every Tuesday and Thursday year-round at 10am. In the summer we kayak/canoe, swim and hike. In the fall we hike, and in the winter we snowshoe and cross-country ski. Our trips are from 1-1/2 to 2 hours, followed by lunch. ORFS is a very informal group and participation is for all outdoor enthusiasts wanting guaranteed good exercise with a friendly fun group. Join in on the fun. Hikes will depart promptly at 10am.
PLEASE NOTE: You will be notified of a cancellation by 8:00am on Tuesday for the Tuesday ORFS group by e-mail from the leader of the week who is responsible for that decision. A rain date may occur at a future date if the monthly coordinator can substitute and reschedule activities. Please keep checking coachapincenter.org for the current ORFS event schedule and any changes.
If you are an ORFS participant and would like the monthly ORFS schedule emailed to you, please contact COA at 526-6368.
NEW ORFS PARTICIPANTS MUST COMPLETE AND RETURN THE WAIVER AND EMERGENCY CONTACT FORMS BELOW PRIOR TO THEIR FIRST ORFS ACTIVITY.
---
SEPTEMBER OUTDOOR RECREATION FOR SENIORS SCHEDULE
September 7 – Dewey Beach, Sunapee
Kayak leader Al Peterson, 603-763-5456, Hike leader Skip Hause, 339-440-2256.
Bring kayaks, chairs, and lunch. We have full access to beachfront put-in and tables. A few options for hikers begin at the beach.
Directions: From New London, take Rt. 11 to Sunapee. Before you get to the town center, you turn left on Jobs Creek Rd, which runs into Garnet St. Turn right, and you can park in front of the beach fence.
----------------------------------------------------------------
September 14– Little Lake Sunapee
Leader/Host: Anne Forzley 860-670-9984 anneforzley@gmail.com
Directions: From I 89 exit 12, Newport Road, turn towards New London and drive 1.3 miles to Murray Pond Road on the left. Murray Pond Road is across from a sign that indicates that the speed limit is about to drop to 30mph. Drive all the way down Murray Pond Road. My house is just after the beach. Park at my house, a tall, skinny grey house #104. I can fit four cars in my parking spot. Others can park along the road, and beyond my house, at the dead end, but please don't block any driveways. If the neighbors are not going to be around, they will let me park cars in their spots as well. When you arrive, I'll let you know which driveways we can use.
Hike Leader: Joe Kubit (603)-526-6678
Hikers: From my house on Murray Pond Road, Joe Kubit will lead the group up Newport Road to Cricenti's Bog to explore the bog.
Bring your lunch, a chair, a swimsuit, and a towel. I will supply cold beverages and dessert.
----------------------------------------------------------------
September 21 - Pillsbury State Park in Washington
Leaders: Kendall and Judy Buck. (603) 608-6670
Kayak around two wilderness ponds. Hikers get a map at the office to decide which wooded hiking trail to enjoy. Park information and maps located at https://www.nhstateparks.org/visit/state-parks/pillsbury-state-park. Bring your chair and lunch to the picnic area at the end of the park road.
Directions: From the traffic circle in Newport, continue straight on Rt.10, which is Main St. for 10.8 miles. Take a slight turn onto Rt. 31 South Washington Rd. for 5.5. miles. Turn left onto Pillsbury State Park Rd. and drive to the park office to sign in. $4 fee or free for over 65.
----------------------------------------------------------------
September 28 – Newbury Harbor, Lake Sunapee
Leader Mark Friedman 630-567-5991
Directions: Newbury harbor is at the junction of Rt 103A and Rt 103. From New London go South on 103A to the junction and turn R. There are 12 parking spots on the R at the head of the harbor. If these are all taken, there is additional parking further along 103 on the right (by the caboose). The adjacent parking / across the street parking is private. You can pull in and launch from the dock or the beach, then move if the parking is full.
Hikers should proceed back up 103A north (back toward New London) about 1.5 miles to the Fells. You can park in the Fells lot. There are several hiking options:
Directly across the street is the Sunset Hill Trail. You can follow this to the top of Sunset Hill (about 30 minutes) where you will be rewarded by views of Lake Sunapee.
If you want a flatter trail, continue straight on Old County Road (just a trail these days) where the Sunset Hill Trail turns L up the hill. This will end at Rollins Road.
Or you can hike the trails in the Fells (there is an admission charge if the gatehouse is attended).
At about noon, kayakers will put in at Blye Hill Landing (on the East Shore) for lunch. Mark and Mary Friedman will provide water and snacks. Hikers can park in the lot at the foot of Blye Hill Landing Rd (0.7 mi N of Newbury on 103A. There is a tall flagpole in the lot). Proceed down the hill to the beach. The sign says homeowners and guests only, and you are my guests. After lunch kayakers can paddle back to the harbor or shuttle back by car and take out at the landing.
(Note: Depending on the weather, we may want to do the windward end of Lake Sunapee (by Georges Mills), but we can watch the forecast and adjust based on weather.)
Quick Facts About Newbury
https://www.google.com/maps/place/Newbury,+NH/@43.3192061,-72.0913633,12z/data=!4m5!3m4!1s0x89e1f442927ee68f:0x11d6d0cb73fd05c0!8m2!3d43.3214646!4d-72.0359175
---
OCTOBER OUTDOOR RECREATION FOR SENIORS
REMINDER: We meet Tuesdays at 10 a.m. for hiking or paddling. Always a good idea to bring your name tag, walking poles, water, sun cover, and even some bug spray. If you have been to another pond or waterway, please wash off your kayak or canoe so that invasive species are not transported into the ponds and lakes we enjoy.
Out of consideration for the safety of us all, as was the case with last year all refreshments and socializing this month will continue to be outdoors. Be reminded that the current CDC recommendations are for social distancing for individuals from different households, and mask wearing for those not vaccinated. As cases continue to rise in NH let's do our part to keep each other safe from Covid 19.
October 5th – South Sutton Countryside Around Home of Henry and Libby
Trip Leaders: Henry and Libby Howell (Home: 603-938-5706 or Cell: 781-307-8817)
This hike will start from the Howells' house and will travel around their 1.8-mile dirt road loop with possible extended walk through some fields and woods. We'll offer soup, coffee & tea, and dessert cookies afterward at our house to be served outdoors. Folks should bring their lunch and a chair to sit on our terrace overlooking the lake.
Directions:
From Rt 114 South Sutton post office go south 1.4 miles Turn left onto Johnson Hill Road and go .3 miles to top of little hill. At top of little hill, turn right at old farmhouse and head downhill .2 miles to fork. At fork is Blaisdell Hill Road & Camp Kemah Road. Go straight up hill on Blaisdell Hill Road .5 miles to our house (becomes dirt road.) We are #100 on the right. Park on either side of house.
----------------------------------------------------------------
October 12th Profile Falls, Bristol NH
Trip Leader: Phyllis Piotrow (603-526-2755)
Profile Falls is a short, wide waterfall on the Smith River, just upstream of where it meets the Pemigewasset. Its size and beauty are impressive for its proximity to a populated area. It is also an easy walk, accessible via a very short, wide dirt path. The enormous size of the waterfall immediately overwhelms you when you first see it. It is not very tall, but few other waterfalls in New Hampshire can match its impressive volume. It is made up of two main drops, each about 10 feet, and there is a very large pool at the base. The waterfall can be viewed from the top by walking through the woods.
Directions:
From New London take Rt 11 east to Potter Place, left on Rt 4 to Danbury, then in Danbury right on Rt 104 about 7.2 miles. Turn right on Walker Rd, after Berry Rd, bearing right at Walker Farm, about 1.7 miles, across Rt 3A and down into Profile Falls Rd. Then sharp right into park and farthest parking lot on the right. (If lost, from Bristol center go right on Rt 3A for 1.6 miles to Mountain Hill Road on left and straight down into park). Bring your lunch and chair to eat by the river, appropriately socially distanced of course.
----------------------------------------------------------------
October 19th Mt Kearsarge Indian Museum, Warner NH
Trip Leader: Olivia Henry (Cell: 603-496-0956)
This trip includes a guided tour of the museum of 1 to 1½ hour. Afterwards, there is a self-guided 2 tenths of a mile Medicine Trail walk. Finally, we can explore the arboretum there. Bring lunch and eat in the pavilion of the arboretum or eat closer in the barn. The museum offers 1,000's of Native-made objects, many made from trees, roots, grasses, berries, stones, animals, from many parts of North America. Afterwards, on the Medicine Woods Trail, we can learn about many medicinal plants.If some people want to do more walking, they can walk on Mt. Kearsarge Rd. It is c. 4 1/2 mi from the Museum up to Rollins St. Park. Cost for our group is $7.50 pp, please bring exact change to Olivia, if possible to expedite admissions. Otherwise, the museum can accept cash, check, or credit cards. Be sure to take a look at this website to learn more about the origins of this New Hampshire special place:
https://newhampshireadventures.blogspot.com/2014/02/bud-thompson-finding-place-in-circle.html?m=1
Directions:
Mt Kearsarge Indian Museum
18 Highlawn Road, Warner, NH.
RT 89S to Exit 9 for NH-103 toward Warner/Bradford. Go 0.3 mi then turn left onto NH Route 103E. Go 0.8 mi. Turn left onto Roslyn Ave. Go 15 ft then turn right onto Geneva St for 0.2 mi. Turn left onto Kearsarge Mountain Rd. Go 0.9 mi then turn right onto Highlawn Rd. Destination is 2nd driveway on the right.
----------------------------------------------------------------
October 26th Bog Mountain Trail, Wilmot NH
Trip Leader: Barbara Cooper (Home: 603-763-9286, Cell: 603-229-2113).
This surprisingly rocky little peak in central NH is a relatively unknown hiking destination compared to its neighbors, like Mt. Kearsarge. There are two possible approaches; The total length of today's hike is 2.2 miles. The Bog Mountain Trail heads off into a nice forest and begins climbing moderately. It winds through the woods until it reaches the top of a ridge (at 0.6 miles), where there are wide rock ledges with limited views toward Mt. Kearsarge and nearby hillsides. The trail continues through the forest at a mostly flat grade, occasionally passing over open rock. At the summit there are wide views over the treetops in two directions. Mt. Kearsarge and Mt. Sunapee are seen to the south, and Smarts Mountain is seen to the north. A spur path leads down to a second overlook facing southeast. At the back of the summit area is a large granite bench in honor of Bill Best.
To celebrate the season, pick up your individually wrapped trick or treat goodies bag at the end of the hike. Happy Halloween!
Directions:
From New London take Route 11 east toward Andover. Turn left onto Route 4A. After 4.8 miles turn right onto Stearns Rd. The Trailhead and parking area are on Stearns Road in Wilmot, NH. Stearns Road leaves Rt. 4A 4.8 miles west of Rt. 11. The trailhead is 0.7 miles down Stearns Road, on the right. There is a wooden sign marking the trail on the right hand side of the road.There is a small pull-off on the other side, just past the trailhead.
---
ORFS Group Forms