ORFS Schedules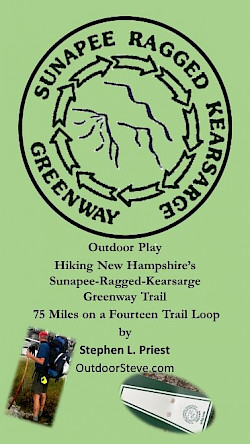 Steve Priest's latest book, Outdoor Play Hiking New Hampshire's Sunapee-Ragged-Kearsarge Greenway: 75 Miles on a Fourteen Trail Loop, was just released. The Sunapee-Ragged-Kearsarge-Greenway (SKRG) Trail is a hidden gem of New England. Outdoor Steve's goal is to share each step and strategy of this hiking journey across the Lakes Region of New Hampshire. Steve recommends the eBook. (Amazon.com/gp/product/B08MDN1S16). The ebook has videos of Steve's personal experiences on each of the fourteen trails. The videos make the hikes "come alive" and include many of his fellow COA ORFS (Outdoor Recreation for Seniors.) The book is also available in paperback at the Morgan Hill Bookstore in New London, NH. Some folks call outdoor experiences "play." If "play" is defined as the choice made to take a course of action based on the rewards of participation and getting a perspective that can only come from 'doing,' then outdoor adventures are play. Many adults and children do not play enough."Everyone should believe in something. I believe I'll go Outdoors." For more of Steve's outdoor guidebooks and documentary videos, visit OutdoorSteve.com and Outdooradventurers.blogspot.com.
---
The Outdoor Recreation for Seniors (ORFS) group meets every Tuesday year-round at 10am. In the summer we kayak/canoe, swim and hike. In the fall we hike, and in the winter we snowshoe and cross-country ski. Our trips are from 1-1/2 to 2 hours, followed by lunch. ORFS is a very informal group and participation is for all outdoor enthusiasts wanting guaranteed good exercise with a friendly fun group. Join in on the fun. Hikes will depart promptly at 10am.
PLEASE NOTE: You will be notified of a cancellation by 8:00am on Tuesday by e-mail from the leader of the week who is responsible for that decision. A rain date may occur at a future date if the monthly coordinator can substitute and reschedule activities. Please keep checking this website for the current ORFS event schedule and any changes.
If you are an ORFS participant and would like the monthly ORFS schedule emailed to you, please contact COA at 526-6368.
NEW ORFS PARTICIPANTS MUST COMPLETE AND RETURN THE WAIVER AND EMERGENCY CONTACT FORMS BELOW PRIOR TO THEIR FIRST ORFS ACTIVITY.
---
DECEMBER OUTDOOR RECREATION FOR SENIORS SCHEDULE - Tuesdays
WE MEET EVERY TUESDAY STARTING OUR ACTIVITY AT 10 a.m. PLEASE JOIN US!
December 7th-----Hike Fisherfield Park in Newbury-----Leaders are Jim Harris, 603-748-7244 and Gene Stanphill, 938-5683. Explore the variety of trails that loop from park center. Please bring hiking poles and ice cleats if needed. DIRECTIONS: From New London, take Rt. 11 West toward George's Mills. After passing underneath I-89, exit 12, turn left onto Rt. 103A by the Park'n Ride and continue to Newbury. Turn left at intersection of Rt. 103 and go about 300 yards to Old Post Rd. It is uphill and veers to the left. Keep going til you see the park sign and parking area on your left. We will have lunch together at Bubbas Bar & Grille at the harbor. 763-3290.
ATTENTION: Our regular holiday events with Caroling at Bittersweet and Buffet at Lyon Brook have been cancelled for safety of the residents.I have tried other places but they are either booked or unavailable. Since it is so unpredictable even at the last minute, I am choosing a tried and true last resort!
December 14th----You are cordially invited to our ORFS' Christmas Celebration 2021 at Coombs' Luna-See Lodge hosted by Kathy & Bill. 763-2307, or loonylodge@gmail.com. DIRECTIONS: From New London, take 1-89 to exit 12. Turn right onto Georges Mill Rd. Continue to intersection at Rt 114/Main St. Turn left and go 2 miles until you see the lake on left. We are 2643 Main St., diagonally across from the town beach in a big brown and green house.
1). Please dress for holiday and warm enough for a brisk walk around the lake or up to cemetery.
2). When you get back, warm up with some glogg. We will sing some carols accompanied by Al Peterson (without costumes or books!).
3). Around noon, we will line up for the smorgasbord. I am making chicken cordon bleu. BYOD and your special casserole, salad or dessert to complete our meal.
4). After our buffet, we will have our traditional Yankee Swap which is always entertaining. Please bring a wrapped gift to fight over. $10 limit.
5). I have been told emphatically by several ORFS women that I do too much and they want me to enjoy my parties! So I am decorating as I always do and providing only one entre, the mulled wine and egg nog toast. The rest is up to you to complete our menu.
6). It is always our pleasure to host you, dearest friends, over this blessed holiday to guarantee a fun party! We have so much to celebrate especially our good health and our loyal bonds in this unique group!
7). So hope to see you on the 14th if not next year!
December 21st, and 28th----enjoy every moment! Merry Christmas and Happy Holidays with Joy & Peace to us all!
---
JANUARY OUTDOOR RECREATION FOR SENIORS SCHEDULE - Tuesdays
WE MEET EVERY TUESDAY STARTING OUR ACTIVITY AT 10 a.m. PLEASE JOIN US!
January 4 - Hike Mount Tom in Woodstock, VT Leader is Anne Forzley 860-670-9984
Meet at the Billings Farm and Museum parking lot in Woodstock, VT. Cross Route 12 to the trails and hike the carriage roads, Mountain Road and Mt. Tom Road to the south peak summit. The carriage roads are wide, and although they are uphill, they are not steep. It's also possible to hike a loop around the Pogue, a small, yet scenic pond on the property. Boots, spikes or snowshoes may be appropriate, depending on the weather. Directions: 89 North to exit 1 for Route 4. Turn left onto route 4 west for 10 miles. Turn right to continue on VT 12 North, then a slight right onto Old River Road. Park in the Billings Farm & Museum parking lot on the right. Lunch can be at the Billings Farm Parking area or at the Skinny Pancake 7161 Woodstock Road (Route 4) Quechee, VT.
January 11 - Hike Sunapee Harbor – Lake Avenue – Burkehaven Leader is Anne Forzley 860-670-9984
Begin in the harbor and hike either up Burkehaven Hill and around the 3 mile loop back by Lake Avenue to the Harbor, or follow Lake Avenue and turn back any time before Burkehaven Hill to skip the hill. Enjoy views of Lake Sunapee, the lighthouse and surrounding hills. Sneakers, boots and possibly spikes, depending on the weather conditions, will be appropriate. Directions: Coming from New London take Route 11 to Sunapee. In Sunapee, after you pass Bar Harbor Bank on the right, turn left onto Main Street at the blinking light towards Sunapee Harbor. Follow Main Street up and over the hill. Park in the harbor area in front of the green and the gazebo, or across the street in the small parking area by the boat launch.Lunch can be outside at the harbor/up on the lawn by the gazebo, or at Pizza Chef in Sunapee.
January 18 - Hike the Northern Rail Trail in Enfield Leader is Anne Forzley 860-670-9984
Hike the Northern Rail Trail along Mascoma Lake and the Mascoma River. The trail is flat and scenic. Hiking boots, spikes, snowshoes or nordic skis are recommended, depending on weather and the amount of snow on the trail. Park at Lakeside Park in Enfield next to Mascoma Lake. Directions: From Route 89 take exit 17. Follow Route 4 east and turn right onto 4A. Follow 4A along Mascoma Lake and turn left to cross the Shaker Bridge (Main Street). After crossing the bridge, turn right into Lakeside Park. Lunch can be outside at the park, or at Mickey's Roadside Café 330 Route 4 in Enfield.
January 25 - Hike the Sugar River Trail in Newport Leader is Anne Forzley 860-670-9984
Hike along the Sugar River Trail as it winds through the woods in Newport towards Claremont. The trail is flat, wide and surrounded by woods. The Sugar River provides a peaceful and scenic view. Boots, spikes, snowshoes or nordic skis are appropriate, depending on weather. Directions: A couple of blocks north of the gazebo in Newport, turn left onto Belknap Avenue. Drive a very short distance down Belknap Avenue, past Hodgepodge Yarns, and turn right into a dirt parking lot by large propane or oil tanks. The trailhead is at the end of the dirt parking area. Lunch can be outside at the trailhead by the river or at Village Pizza of Newport 7 South Main Street.
---
ORFS Group Forms