Programs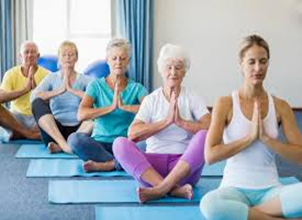 GENTLE YOGA
lead by Carol Filbin, Certified Yoga Teacher
Second and Fourth Tuesdays from 3:00-4:00pm at COA
(Begins January 8th)
This wellness class will help you feel better and create a sense of inner calm as we focus on gaining flexibility, strength and balance. We will use yoga mats or chairs while we do yoga poses. At the end of each class there will be a time of relaxation. Gentle yoga is appropriate for all levels from beginner to experienced. Bring a yoga mat and wear comfortable clothing. Please call COA at 526-6368 to register. This is a free program.
Gentle care for your body, mind and spirit
ENJOY A FREE 15-MINUTE CHAIR MASSAGE
Thursday, January 17th
Appointments beginning at 10:00am
Massages provided by Teresa Colangelo, Licensed Massage Therapist
Please call COA at 526-6368 to schedule an appointment.
Teresa Colangelo graduated from the Mt. Nittany Institute of Natural Health in State College, PA in December 1999. She began her own business, "Almost Heaven Massage Therapy & Day Spa" where she practiced massage until she moved to Eastman in September 2013.
She settled into living in Eastman with her husband, where she enjoyed the activities and gardening, however, her passion for helping and pampering people persisted. She missed the contact that she had enjoyed so much with her clients in Wellsboro, especially those she visited in the local nursing homes and senior centers. She decided to renew her massage license and is now able to practice in New Hampshire.
Her "calling" is to provide soothing touch and relaxation to seniors who can benefit so much from massage. Massage can offer an overall feeling of well-being and aid in the relief of anxiety and tension. In addition, it increases circulation and assists in increasing joint movement and muscle flexibility. Most of all, it feels good and helps the body increase the production of endorphins. Your body's natural pain reliever.
She is excited to begin offering the gift of touch through seated chair massage at COA Chapin Senior Center.