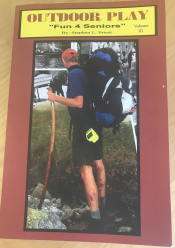 Get your copy of Outdoor Play "Fun 4 Seniors" by ORFS member Stephen Priest. Copies available at OutdoorSteve.com, Morgan Hill Bookstore and Amazon. Lots of terrific information about ORFS!
Stephen will be leading a Colby-Sawyer College course this Fall in the Adventures in Learning program. The course is titled Outdoor Play "Fun 4 Seniors."
Thursdays, 9:30 – 11:30 a.m.
4 weeks beginning October 24
Adventures in Learning Classroom - Lethbridge Lodge
Colby-Sawyer College
Maximum number of participants: 12
http://colby-sawyer.edu/adventures
_______________________________________________
The Outdoor Recreation for Seniors (ORFS) group meets every Tuesday year-round at 10 am. In the summer we kayak/canoe, swim and hike. In the fall we hike, and in the winter we snowshoe and cross-country ski. Our trips are from 1-1/2 to 2 hours, followed by lunch. ORFS is a very informal group and participation is for all outdoor enthusiasts wanting guaranteed good exercise with a friendly fun group. Join in on the fun.
If you are an ORFS participant and would like the monthly ORFS schedule emailed to you, please contact COA at 526-6368.
PLEASE NOTE: New ORFS routine: if the night before [the Tuesday outing] is extra rainy and might wash out the hiking trails or other venue, then the ORFS team leader will notify participants of the postponement until Wednesday of that same week.
_______________________________________________
November 2019 ORFS Schedule
NOVEMBER 5: Hike Fisherfield Park in Newbury. Leader is Gene Stanphill: 938-5683.
DIRECTIONS: From New London take Route 11 West to Route 103A. Follow 103A South to Route 103. The Route 103 south and turn left on Old Post Road. After one mile you will see a sign for Fisherfield Park. Lunch is at Bubba's Restaurant in Newbury.
NOVEMBER 12: Hike the Morris Trail, Colby Sawyer College, New London. Leader is Jim Harris: 603-748-7244.
DIRECTIONS: From Main Street in New London turn onto Seamans Road (at the First Baptist Church) continuing behind Colby Sawyer. Turn right at Mercer Field. Take first left and drive to far parking area. Trailhead is across Seamans Road at Kelsey Field. Lunch will be at Colby Sawyer College Cafeteria, Ware Student Center, Building 20. Cost is $8.00 per person plus tax.
NOVEMBER 19: Hike around all or part of the road around Pleasant Lake, Elkins. Leader is Neil Wallace: 603-526-8097.
DIRECTIONS: From Main Street in New London turn left (east) onto Route 11. Proceed one mile and turn left onto Elkins Loop Road. Just past the Elkins Post Office park in Neil's driveway or in roadway. After hike return to Neil's house with your lunch and Neil will provide beverages and dessert.
NOVEMBER 26: Vermont Institute of Natural Science (VINS), Quechee, VT. Leader is George and Nancy Smith: 802-436-2616.
DIRECTIONS: From New London take I-89 North to Vermont. Take Exit 1 and follow signs toward Woodstock (Route 4). Park at Quechee Gorge. VINS provides avian and raptor species aid. There is a new 900' foot long, 100' high canopy walkway. Cost is $12.50 per person, which is $3.00 off the regular rate. A portion of the entrance fee helps support VINS. Bring lunch to eat inside the VINS facility.
November coordinator: Bill Coombs – 763-2307
ATTN - DECEMBER 10: The annual ORFS Christmas Songfest, Yankee Swap and lunch at Lyon Brook. Save the date and wait for a special email from Rosemary Silverberg with details.
________________________________
December 2019 ORFS Schedule
We encourage you to join our merry band each Tuesday at 10:00 a.m.
Dec. 3rd---BOWLING AT MAPLE LANES IN CLAREMONT---Leader is Skip Hause 763-2328.
Directions from Claremont Opera House square: Take Pleasant St. South toward Charleston for 0.09 mile. Turn right at stoplight onto Maple Ave. and go 0.6 mile, turning right at Citco sign into Maple Lanes at 125 Maple Lane. Afterward we will meet at Imperial Chinese Buffet for lunch which is the next left after Wal-Mart turn off at 154 Washington St.
__________________________________________________________
Dec. 10th---ANNUAL CAROLING AND CHRISTMAS PARTY IN NEW LONDON---Program director, Kathy Coombs, 763-2307, Keyboard accompaniment , Al Peterson; Party Coordinator, Rosemary Silverberg, 526-7940, and Yankee Swap facilitator, Joy Kubit, 526-6678. We begin at Bittersweet Residence on Pleasant St. ( the next block down on your right from the Chapin Center.) Please arrive at 10 for instructions and your appropriate paraphernalia.
PLEASE WEAR RED TOP IF POSSIBLE! for the "formal chorus" with actual books! Then we will transform into characters for THE PAGEANT in second half! (Please trust me as you always do, because you are always amazing!)
After a little visit over refreshments, we will caravan to Lyon Brook Residence. Directions: Go back to Main St. and turn right and then left onto Parkside Dr. until you see #322 Lyon Brook. Park where you can in their circular driveway on your right.
Put your coats and purses on chairs in dining room and wrapped gift on Swap table provided. (It should be something that people will fight over!) Put on your hat and collar, then line up on the stairs for our second show. Afterward, please take some time to visit with the residents until we line up for the lovely holiday buffet.
After dessert, we'll move chairs to get a ringside seat for the grand finale, our unique Yankee Swap! You will be certain to leave overflowing with the Holiday Spirit to carry you thru the season!
__________________________________________________________
Dec. 17th---Hike, snowshoe or cross country ski the SUGAR RIVER RAIL TRAIL, NEWPORT---Leader is Bill Coombs, 763-2307.
Directions: Take Rt. 11 entering Newport and turn right at the town green onto Rt. 10 North. At Richard's Library, turn left onto Belknap St. to Hodgepodge knitting store. Turn right into Irving Oil and drive all the way to the end of their parking area to the trailhead. (Be sure to leave room for their trucks to maneuver.) Lunch is upstairs at Salt Hill Pub in downtown Newport at 64 Main St.
__________________________________________________________
Dec. 24th---MERRY CHRISTMAS!
__________________________________________________________
DEC. 31st---HAPPY NEW YEAR!
(Monthly coordinators are Kathy and Bill Coombs, 763-2307, loonylodge@gmail.com)