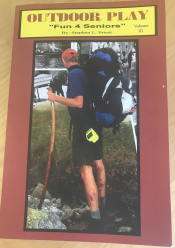 Get your copy of Outdoor Play "Fun 4 Seniors" by ORFS member Stephen Priest. Copies available at OutdoorSteve.com, Morgan Hill Bookstore and Amazon. Lots of terrific information about ORFS!
_______________________________________________
The Outdoor Recreation for Seniors (ORFS) group meets every Tuesday year-round at 10am. In the summer we kayak/canoe, swim and hike. In the fall we hike, and in the winter we snowshoe and cross-country ski. Our trips are from 1-1/2 to 2 hours, followed by lunch. ORFS is a very informal group and participation is for all outdoor enthusiasts wanting guaranteed good exercise with a friendly fun group. Join in on the fun.
If you are an ORFS participant and would like the monthly ORFS schedule emailed to you, please contact COA at 526-6368.
PLEASE NOTE: New ORFS routine: if the night before [the Tuesday outing] is extra rainy and might wash out the hiking trails or other venue, then the ORFS team leader will notify participants of the postponement until Wednesday of that same week.
_______________________________________________